Please Review our Dealership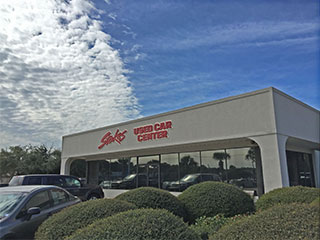 Stokes Used Car Center has a benchmark of excellence that we intend to achieve in ever interaction that we have with our customers.  Our professional Beaufort sales team at Stokes Used Car Center in the Beaufort, SC are one-of-a-kind. We encourage our customers to share their experience of Stokes Used Car Center, and that's why we've made it simple for you to share your Stokes Used Car Center online with others in Beaufort, Bluffton, Hilton Head, Savannah and the surrounding areas. Simply click any logo below to write a review at any of your favorite review sites!
 Click on the Icon to Submit a Review.  Submit a Yahoo or Google Review if
you have an account with them.
Click here to submit your review.
---
---
Aug 02, 2016
by
Christopeaher Eiland
Salesperson: Christopeaher •
City: Beaufort •
State: South Carolina
My wife and I had a wonderful experience at Stokes Used Car Center. This was actually some of the best service I have ever received at a car dealership. The customer service was impeccable and our sales person, Shawn Heyward, showed himself to be the consummate professional. Stokes Used Car Center exceeded our expectations, and we couldn't be happier with the quality vehicles we purchased. Hats off and five stars to the staff there, particularly Shawn Heyward who made the experience comforting and easy.

I will be recommending Stokes Used Car Center to my colleagues who consider purchasing a used vehicle.

---
Jul 14, 2016
by
Ronald Pickard
Salesperson: Ronald •
City: SAVANNAH •
State: GA - Georgia [USA]
I would have to give a 5 star status of appreication. The staff Andrew White and Thomas was wonderful to deal with and very helpful. Although I live in Savannah Stokes will continue to be my choice.

---
Very good
Mar 14, 2016
by
Lamonica pinckney
Salesperson: Darius •
City: Beafort •
State: Sc
Truly thanks Stokes Brown for the awesome service I received Darius was the best salesperson I have ever had.I too had many car lots to turn me down due to my bad credit they worked day and night to work a great deal for me. Thank u again for giving me a second chance to a new beginning.y'all are the truth! I will be sending more friends and family to see u guys thank u Darius!!!!

---
Mar 03, 2016
by
John
Salesperson: Dan Ward •
City: Hilton Head •
State: SC
Dan and his team were great to work with to get the needed repairs done on my vehicle. Very professional, informative and they kept me up to date
Thank you

---
BEST EXPERIENCE EVER!
Feb 19, 2016
by
paul
Salesperson: ThomasGriffin •
City: Beaufort •
State: Sc
I have never had a better day buying a car than I had at Stokes Honda used cars Beaufort. Thomas Griffin was a pleasure to work with and huge help finding the right car for us. We are very happy with the car we bought. The whole sales team was committed to making us happy.ESPECIALLY THOMAS. AND THE SALES MANAGER, AND THE USED CAR MANAGER. Thank you again Thomas and keep up the great work. THANK YOU ALL AGAIN.

---
2014 Dodge Challenger
Aug 26, 2015
by
Michael Pennington
Salesperson: Tyler Neirz •
City: Beaufort •
State: Sc
Great experience with Tyler. He made it very easy to get the car I wanted. I put alot of pressure to get the deal done quickly and they did in under two hours I was in and out with the car of my dreams. They had three or four people running around doing my paperwork so I could get done in time to get to work. I appreciate all the work and effort you guys put in. Definitely would recommend Stokes honda cars of Beaufort.

Response: Thank you so much Michael for sharing your experience with us. We\'re happy to hear you would recommend us. Thanks!
---
Great salesman
Aug 26, 2015
by
Michael Pennington
Salesperson: Thomas Griffin •
City: Beaufort •
State: Sc
Best salesman I've dealt with in a long time. He has helped me on two occasions where it was his day off. He makes buying a car easy. Keep up all the hard work.

---
2013 Ford Fusion
Aug 09, 2015
by
Diane
Salesperson: Matt West •
City: Beaufort •
State: South Carolina
Matt is a very enthusiastic, energizing, and friendly salesperson. He makes you feel comfortable and at ease. I really enjoyed my car buying experience and not to mention that I absolutely LOVE my car. The Stokes team made sure to put me in the car I wanted and get me close to the terms that I required. I would recommend anyone looking to get a new/pre-owned car go to Stokes in Beaufort, the team there makes sure you leave happy and have a wonderful car buying experience!

Response: Hi Diane! Thank you for sharing your experience with us. We hope you enjoy that new Fusion!
---
May 24, 2015
by
marcus
Salesperson: Gus •
City: Beaufort •
State: SC
Gus is very professional! He made my wife and I experience stress free. We love our new car!!

---
2012 HONDA CIVIC
Apr 07, 2015
by
JEN
Salesperson: THOMAS GRIFFIN JR. •
City: BEAUFORT •
State: SOUTH CAROLINA
I WENT TO A TON OF PLACES THAT WOULD EITHER DENY ME OR GIVE ME AN OUTRAGEOUS DOWN PAYMENT, STOKES DID EVERYTHING THEY COULD TO GET ME APPROVED AND WENT ABOVE AND BEYOND TO GET ME INTO A RELIABLE QUALITY CAR. THEIR WHOLE STAFF WAS INVITING AND EAGER TO ASSIST. THOMAS WAS EASY TO TALK TO AND MADE MY BUYING EXPERIENCE GENUINE AS WELL AS ENJOYABLE. I LIVE IN GEORGIA AND IT WAS WELL WORTH THE DRIVE!

---